Contact
Career Service
UniService Transfer
Campus Grifflenberg
Gaußstr. 20
42119 Wuppertal
Building: B.07.11
Tel.: 0202 / 439 - 30 44
Fax: 0202 / 439 - 32 05
karriere{at}uni-wuppertal.de
Direction:
Marius Borkenhagen
Building: B.07.13
Tel.: 0202 / 439 - 30 76
Fax: 0202 / 439 - 32 05
borkenhagen{at}uni-wuppertal.de
Welcome to the Career Service
The Career Service of the University of Wuppertal advises on questions of career orientation and planning. The facility provides support both in organising practical studies and in entering the world of work. Therefore, it offers students, but also graduates, a range of event and information formats.
JobTalks in SoSe 2021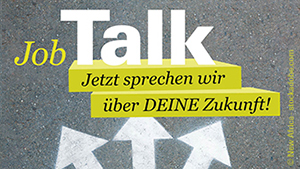 Ready for your career? The free JobTalk workshop series is aimed at students and alumni of the University of Wuppertal who are intensively considering their own career prospects. In exciting presentations, alumni and members of the university tell about their careers and provide valuable orientation for entering professional life.
JOB PORTAL
You will find current offers for internships, part-time jobs, working student positions and full-time positions in the "Stellenwerk" of the University of Wuppertal. Here, you will not only find offers in Wuppertal, but also throughout NRW, nationwide and internationally.



CONSULTATION
In order to protect you and our employees, no personal counselling sessions can be offered at the moment. However, the Career Service can still be reached by phone on 0202 / 439 - 30 44 and by email at karriere@uni-wuppertal.de for your concerns. We are happy to offer telephone and digital consultation (Zoom). Simply send us your documents and we will contact you. Consultation
Dual Career Couples
The University of Wuppertal reacts to societal developments, in which more and more couples (Dual Career Couples) exist. In these couples both parties are highly qualified and permanently pursue a professional career independently of each other. By initiating a Dual Career Service, the University of Wuppertal specifically promotes "careers in pairs" and strengthens the work-life balance of its employees.