Contact
Career Service
UniService Transfer
Campus Grifflenberg
Gaußstr. 20
42119 Wuppertal
Building: B.07.11
Tel.: 0202 / 439 - 30 44
Fax: 0202 / 439 - 32 05
karriere{at}uni-wuppertal.de
Direction: Bakr Fadl
Building: B.07.13
Tel.: 0202 / 439 - 30 76
Fax: 0202 / 439 - 32 05
bfadl{at}uni-wuppertal.de
Welcome to the Career Service
The Career Service of the University of Wuppertal gives consultation concerning career orientation and career management. The facility gives support with regards to the arrangement of studies with practical orientation as well as entering the practitioners' world. Therefore students and graduates can profit from a series of events and information.
NEWS
In consequence of the Corona-Situation the Career Service is rethinking the Summer Semester 2020. We are eager to provide you with optimal consultation, despite the current circumstances. Therefore you can make use of digital counseling or via telephone. The outage of events will be compensated with new digital formats.
Further information concerning the current university life can be found here.
Financing despite Corona?
In the current situation more and more students are looking for a job to finance their studies despite Corona. Since an increasing amount of companies need the support of students and therefore contact the university, we provide you with an overview of companies that currently search urgently for student applicants. You can find the overview here.
(Companies that need support from students can contact us.)
CONSULTATION
In order to protect you and our employees, we are not able to provide you with consultation in person at the moment. The Career Service is continuesly accessible for your requests via phone at 0202/ 439 - 30 44 and via e-mail at karriere@uni-wuppertal.de. Additionally we are happy to offer you counseling via phone and digitally (Zoom). Please send us your documents and we will contact you. Consultation
Job portal
In the job portal of the University of Wuppertal you can find the latest offers for internships, side jobs, student employee and full time positions. About 2000 offers are published every year in the job portal - among which are not only offerings in Wuppertal, but additionally throughout Germany as well as internationally. Job portal
EVENTS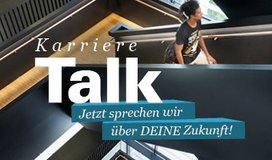 Due to the ban of events we are only partly able to provide you with career-specific events. As a consequence we unfortunatly have to postpone the Recruiting Day, the Excursion Weeks and the CareerTalk into the next semester. Instead we are going to introduce two new formats: CareerDigital and CareerTalk Digital.
Events
Dual Career Couples
The University of Wuppertal reacts to societal developments, in which more and more couples (Dual Career Couples) exist. In these couples both parties are highly qualified and are permanently independent of each other in pursuing a professional career. With the initation of a Dual Career Service the University of Wuppertal is specifically promoting "career as twins" and is fostering the work-life balance of employees.